Debbie Barnett has been playing Mah Jongg for over 45 years. Her love for the game began at the Colony Beach & Tennis Club in East Haven, CT. After relocating to South Florida in 1988, she continued playing the game by organizing various social groups. In 2006, she decided to spread her passion for the game through teaching. She has since taught hundreds of students locally and at various venues including a program for Leisure Time Tours held at the Boca Raton Resort & Spa.
Debbie has now taken her teaching to a higher level with a distinctive, interactive, teaching platform. Now students can be taught in the comfort of their homes on their desktop or tablet while the game works in the background just as if they were sitting around a table with her. Through Debbie's unique and concise way of teaching, students will be sure to grasp all the rules and concepts needed to play this game independently.
Debbie also offers a lifetime mentorship to all her students. She understands that although students learn the rules during class, there are times they will forget. The mentorship allows them to text her with a question and even send a picture of their hand or exposure that might simply say, "Can I do this?" or "Can I use a Joker in a pair?" etc. She feels the mentorship is especially important during the first year of playing socially which is where the biggest learning curve is encountered.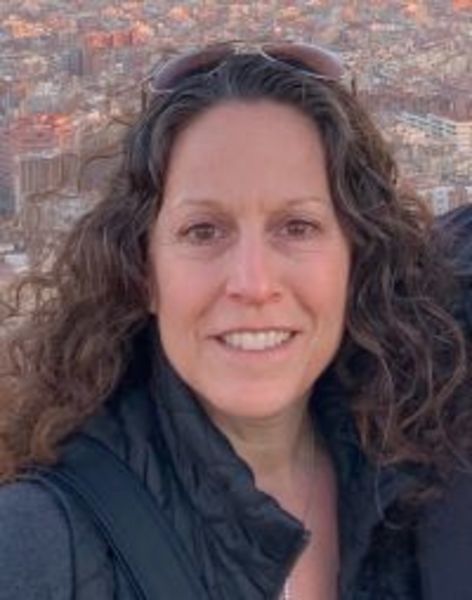 Stacy Budkofsky has been playing Mah Jongg since 2004. From the moment she learned to play she absolutely loved the game and found a way to spread that love by teaching it to others. Stacy has been teaching students of all ages, from 2nd graders to senior citizens, for many years at community centers, libraries, recreation centers, assisted living facilities, schools and camps. Her patience and love for the game shines through in her careful explanations of the rules and strategies.
Stacy has also played in several tournaments, so she has an understanding of how to play the game competitively. She can give tips and strategies on how to play smarter and faster for those who are looking to engage in tournament play.
Stacy also makes herself available to students once their classes are over. Her former students will text with questions, photos and sometimes just to say hi or share a Mah Jongg themed joke, some news or article. She is excited to be partnering with the School of American Mah Jongg to offer lessons to people anywhere through this innovative teaching platform.
Chris began playing mah jongg when she was a teenager. Her mom initiated her into a game when she needed a fill in and before long, Chris became a regular substitute.
Chris's teaching career began three years ago after seeing the need for students to learn the game properly and according to the National Mah Jongg League rules. She has taught at various senior centers, assisted living facilities and from her home.
Chris loves the satisfaction of seeing her students conquer this challenging game.
Beverly Hershkowitz has been been teaching Mah Jongg Students since 2010. In the last 5 years, she has taught mah jongg to retired Supervisors and Administrators at the Council of Supervisors and Administrators (CSA) of New York City. In addition, she has played in many Mah Jongg tournaments throughout New York City as well as participating in numerous Mah Jongg Marathons held in Bryant Park, New York City seasonally.
Laura Hoover is an AMJIA Certified Instructor. Her mah jongg experience began at a local community center over 15 years ago. There she watched a 30 minute video on how to play the game. After the video, she was seated at a table of advanced players who were not very patient with her novice skill level. She didn't let this get her down and continued to play in weekly games increasing her skill level and as well increased her knowledge of the rules through self-study.
Seven years ago she decided to take her passion to teaching and started teaching small groups and larger ones at the local community centers. She says she loves to share her joy of the game through teaching others to play more effectively. She also wants other to have a more positive experience than the one she first had as a new player.
Michelle Kushner has been playing Mah Jongg for the past 15 years. Although she became familiar with the sounds, smells and sights of the tiles long before that. From about the age of 5 Michelle can remember her mom playing, hearing the sound of the tiles sliding on the table, the clicking of the tiles on the racks and the snapping sound the tiles make when you discard. This is where her love for the game started but it wasn't until 30 years later when a friend would suggest lessons that Michelle was sold, hook, line and sinker.
She considers it a combination of poker and Rummikub. There is luck involved, but there is also a considerable amount of skill and strategy. Learning the game was the easy part, but it definitely takes time and experience to become proficient.
Michelle has played in more than a dozen Mah Jongg tournaments where she has honed her skills. Tournaments are fast-paced and knowing the card becomes an important part of the rhythm. She also enjoys the leisurely game played with friends, no time limit, lots of laughs and a good exercise for your brain.
Teaching MJ has become a way for Michelle to share her passion with others. As a MJ teacher she knows the time it takes to learn and makes sure you are comfortable before moving on. MJ takes time and Michelle is committed to the learning process. She is excited to be able to teach on the amazing new School of American Mah Jongg platform and hopes you'll join her.
After a stroke of luck brought Mah Jongg to her door 20 years ago, Esther Liberman fell hopelessly in love with the game. Soon she started collecting Mah Jongg sets, and teaching the game to anyone she could. She has been teaching professionally for 14 years, in private classes and at the Jewish Community Center in Portland, Oregon. Teaching students within the 'Project Mah Jong' traveling museum exhibit was a particular treat! Esther believes it's important for everyone to learn to play Mah Jongg. Not only does it help keep the brain functioning, it also builds a valuable social community for people who might otherwise be lonely as they grow older. After teaching hundreds of men and women to play Mah Jongg, Esther is still delighted as each new person "gets it." Some of her students have become teachers themselves, which makes Esther feel "like a proud Grandma."